League is a health benefits platform that empowers you to take control of your health. With League, you can speak to healthcare professionals, receive personalized recommendations to manage your health needs, and engage with your health benefits - anywhere, anytime.

Live a healthy lifestyle
With League, you get access to tools and resources that support your health and well-being.Health ProgramsHealth Programs are a fun way to work towards your health goals. Each program follows a theme (like self care basics) and breaks it down into small activities (like meditating for 5 minutes). You earn rewards points for the activities you complete that are eligible for points, which you can redeem for League Credit and spend in Lifemarket. You can participate in up to four Health Programs at a time.
Learn more about Health Programs.
Health Profile
When you answer some quick questions to build a Health Profile, we'll surface your top focus areas, add suggested activities to your journey, and show you relevant tools, resources and programs based on your responses.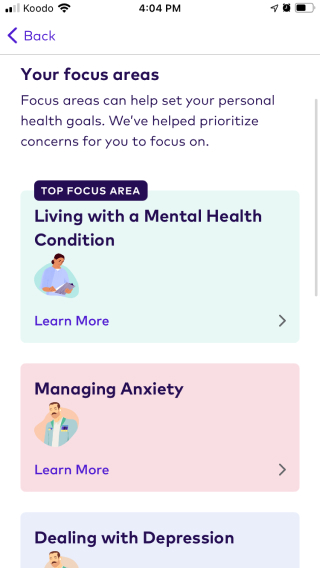 Learn how to build your Health Profile.
Care Collections
Do you have a healthcare area you want to focus on? Click "Get Care" and select a health area from the list to receive recommendations specific to your area of interest.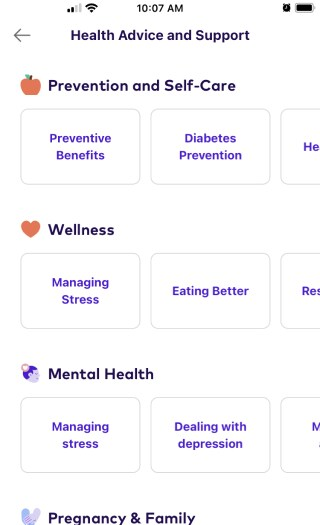 Care Team
Our Care Team of registered nurses and care navigators are here to support you on your health journey. They can help you find the healthcare you need and provide personalized health advice.
Learn more about contacting our Care Team.

Your health motivation
League provides rewards to help encourage your hard work and dedication.
Health Rewards
Earn rewards points for completing any actions in your League account that are eligible for points, like completing activities in Health Programs that help shape healthy habits. You can redeem these points for League Credit to spend in Lifemarket.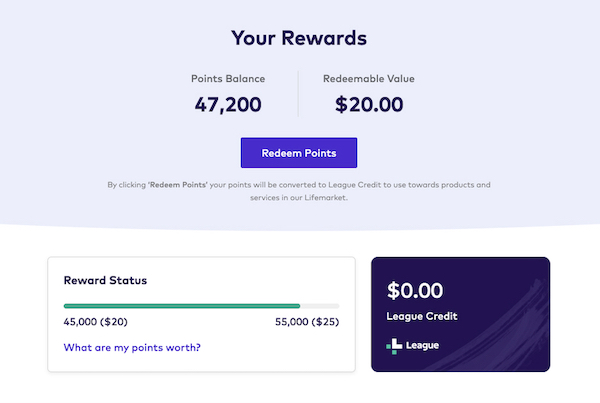 Learn more about rewards points and League Credit.
Lifemarket
Lifemarket is our marketplace of curated products and services that power your healthy lifestyle. You can spend your League Credit on almost everything in Lifemarket.
Learn more about Lifemarket.
Maximize your benefits
League helps make benefits and wellness programs easy to access and use. Keep in mind, everyone's benefits journey with League is a bit different so not everything listed here may apply to you.
Enrollment
If League is your benefits administrator (a.k.a. if we work with your HR team to manage your benefits plan), you'll be able to make plan selections through the League app or website. You'll receive an invitation to our easy-to-use enrollment experience where we walk you through every step of the process.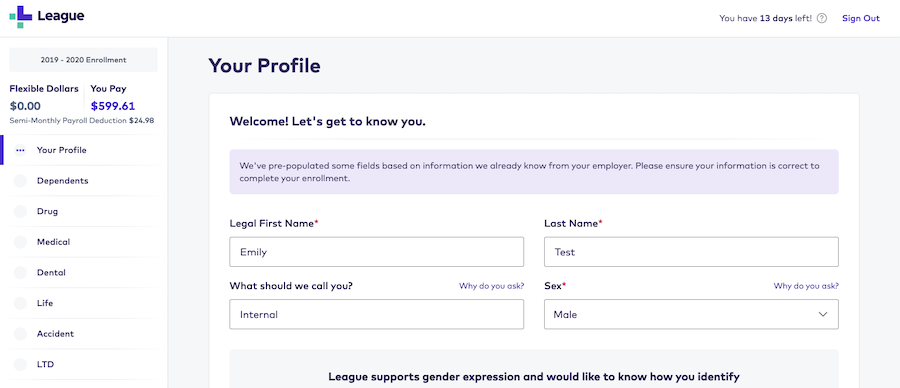 Digital Wallet
The Digital Wallet is a single destination for health and wellness programs provided to you by your employer. This could include spending accounts (like a Lifestyle Spending Account or Health Spending Account), health benefits (like Medical, Drug, and Dental benefits), and other wellness services like an Employee Assistance Program (EAP), financial programs (like a TFSA or RRSP), and virtual services. Just select a program to learn more about what you're covered for.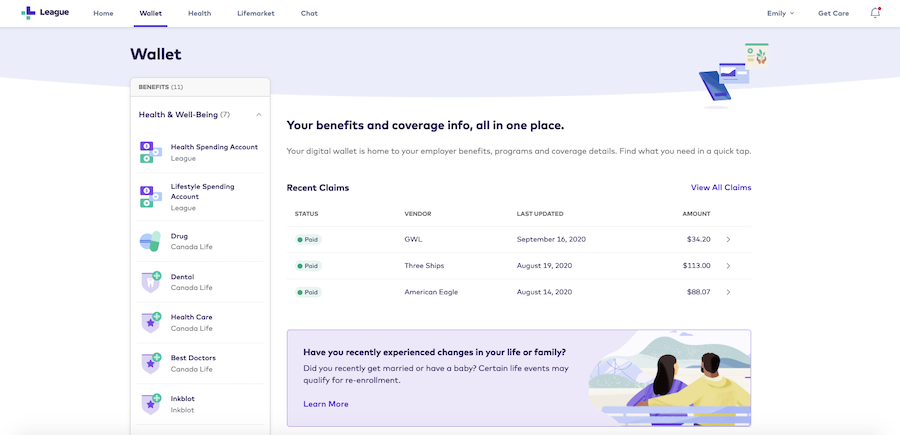 Note: Not everyone has a Digital Wallet, and even the people who have it will see different things. For example, you may find all your health and wellness programs here or you may just find select programs (it's up to your employer).

What's next?