Troubleshoot Apple Health connection issues
We ask you to share your Apple Health data with us when you connect Apple Health to your League account for the first time, or when your League account needs access to new types of Apple Health data. If you tap "Don't Allow" during the data sharing process, we can't access your data or ask for your permission to access your data in the future.
If there's a category of data you want to share with your League account that you declined to share in the past, you can update your data sharing permissions from your device settings:
1. Open the Apple Health app on your iOS device.

2. Tap the profile icon.

3. Tap "Apps" under the Privacy section.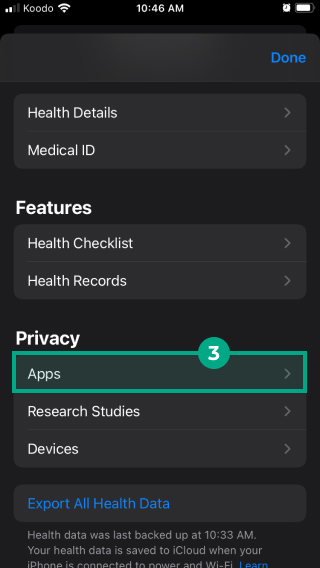 4. Select the League app.

5. Tap the toggle beside the data you want to start sharing (so it turns green).
Apple Health will now share the data with your League account so we can track the data in your metrics and automatically complete certain Health Journey activities when you reach the goal set by the activity (which means you don't have to complete them manually).